Cumin
Cumin: the vast benefits it has for the body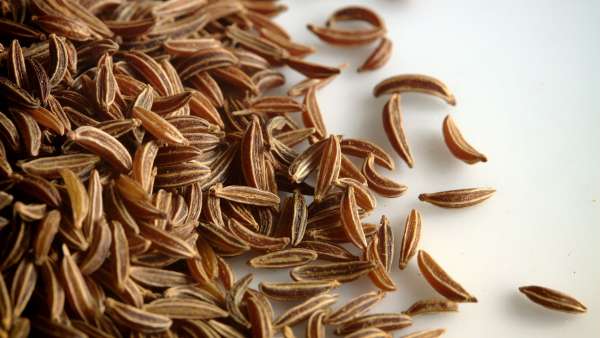 Cumin is used for digestive problems, including heartburn, bloating, gas, loss of appetite and mild spasms of the stomach and intestines. Cumin oil is also used because it improves the urinary tract and kills bacteria in the body.
Cumin (Caraway) is a unique spice used for a long time in cooking and in many natural remedies. Although often confused with a seed, this small, brown pod is actually the dried fruit of the cumin plant or cumin.
Its slightly bitter, earthy aroma reminds of licorice, coriander, anise and fennel. It can be used whole or ground in both sweet and savory dishes, pastries and more. It is sometimes infused or used in spirits and liqueurs.
When used for medicinal purposes, cumin can be turned into a tea or taken as a supplement. You can also apply essential oils created from cumin directly on the skin. Regardless of how it is used, cumin has many health benefits.
Nutritional profile of cumin (100g)
Water: 9,87 g
Energy: 333cal
Protein: 19,77 g
Total fat: 14.59g
Fiber: 38 g
Sugars: 0,64 g
Calcium: 689 mg
Iron: 16.23 mg
Magnesium 258 mg
Phosphorus: 568 mg
Potassium: 1351 mg
Sodium: 17 mg
Zinc: 5.5 mg
Copper: 0,91 mg
Vitamin C: 21 mg
Vitamin B-6: 0,36 mg
Vitamin A: 18 µg
Vitamin E: 2.5 mg
Benefits of cumin
Cumin has been used in traditional and folk medicine for centuries, and the therapeutic qualities of cumin seeds are numerous, often used for its benefits on digestive disorders such as bloating, flatulence, indigestion, but also many others to be further listed.
Certainly one of the essential uses is to cure gastrointestinal and digestive disorders. It is also used to cure gastric ulcers due to its calming properties. Cumin is used medicinally for its carminative (anti-gas, anti-flatulence and anti-bloating) and anti-spasmodic properties.
⚠ Carminative properties: plant or preparation intended to prevent the formation of gas in the gastrointestinal tract or to facilitate the expulsion of the mentioned gas, thus combating flatulence.
Bloating
If you know you have problems with bloating, before or after a meal, chew a few cumin seeds.
Bile secretion
Most natural products for the gall bladder contain cumin. So, if you have problems with the secretion of bile, try to consume cumin seed tea twice a day.
Indigestion
Most of the time indigestion is caused by overeating. That's why before meals, you can chew cumin seeds to make sure you avoid such problems.
Diarrhea
Cumin tea is one of the most effective ways to get rid of diarrhea. This spice has the ability to stop diarrhea and can inhibit the contraction of smooth muscles.
Relieves stomach burns
If you experience severe burns to the chest as well as the throat area, the next time you experience this type of problems, the simplest action is to eat a few cumin seeds either plain or in teas or various foods. It can also be consumed with peppermint oil to relieve gastrointestinal disorders.
Healing constipation
Constipation is one of the problems that irritates a person a lot, because it is totally related to the excretory system. For these moments, cumin seeds are suitable, more exactly, any cumin administration will help you. Try drinking cumin tea twice a day or consuming products that contain significant amounts of cumin.
Heals nausea and vomiting
Nausea and vomiting are unpleasant signs of intestinal infection, as well as other bodily disorders. A simple way to reduce these symptoms is to eat cumin seeds, regardless of how they are administered.
Remedy for colic
Colic is indeed an indefinable disease that frequently affects newborns as well as infants. A typical use of cumin seeds is always to cure a condition of colic. By adding a few cumin seeds to the boiling milk - you will get a beneficial mixture for babies.
Suitable for menstrual cramps
All you have to do is boil water with a few drops of cumin seed oil and wait for it to reach room temperature. Later, you can apply the mass on the entire surface of the area that hurts due to menstrual cramps. Another alternative is to grind a few cumin seeds and combine them with lemon juice, then add a little warm water and drink twice a day. You will definitely get excellent results in terms of menstrual cramps.
Anti-spasmodic
Cumin seeds can bring relief to all sorts of health problems associated with spasms. It can instantly reduce the signs of muscle cramps as it stops the effects of the compounds and enzymes responsible for muscle contraction.
It can also help reduce respiratory spasms while curing hiccups, breathing problems and also cough. As an expectorant, it can deal with inflamed nasal tract, pharynx, larynx, bronchi and throat problems related to the common cold.
Antiseptic and disinfectant properties
Cumin seeds are a wonderful disinfectant as well as antiseptic capable of dealing with many infections, from skin irritations to infections of organs such as those of the digestive, colon, respiratory, excretory and also urinary tract. Cumin seeds are also reported to be effective in preventing the development of fungi and bacteria, thus limiting the development of ulcers and wounds. They can also protect people with injuries against tetanus.
Helps you sleep peacefully
Cumin seeds can help people sleep, having a high content of magnesium, e.g a mineral that is directly associated with improving the quality, duration and peace of sleep.
Cumin seeds also help manage metabolism so as to reduce sleep problems and also prevent the onset of insomnia.
Stimulates bone health
Cumin seeds include an excellent source of zinc, which is found to increase bone mineral density as well as overall bone health.
Heals loss of appetite
Loss of appetite is a very common problem we face in the modern world due to our inability to eat nutritious food. We are also linked to various habits that decrease appetite. Including cumin seeds in teas will be a good remedy for poor appetite. If consumed over time, you will notice the progression of the appetite progressively.
Able to reduce cholesterol
Scientific tests have also confirmed the health effects of high-fiber foods in lowering LDL cholesterol in the body. In addition, fiber helps increase HDL cholesterol. These functions are very important for reducing the chances of developing cardiovascular disease.
Suitable against itching and rashes
All you have to do is a paste cumin seeds together with warm water and apply everything on the affected area. You can also boil a few cumin seeds and when the water reaches room temperature, carefully wash the areas using this mixture.
Beneficial for dry scalp
People who have problems with dry scalp as well as itching can resort to cumin seeds as a natural treatment. Massage the scalp with cumin tea for ten minutes. Then clean with water and wash with herbal shampoo. To combat any itching, you can also use cumin seeds differently. You will need to create a cumin seed paste and apply on the scalp. This should be done at least once a week. Be sure to rinse your hair properly at the end!
Improves the general state of health
General health can be improved by consuming cumin, as it is famous for its beneficial qualities on the immune system. If you have a health problem, such as a cold, a weakened immune system, create infection-fighting components that will help you recover faster if you eat cumin.
Suitable against cancer
Cumin seeds include a chemical compound known as "limonene", which acts against cancer and can stop its development in the breast, liver, lung and stomach cancer.
Soothes persistent cough
Cumin neutralizes the effects of histamine as well as most drugs, but absolutely no side effects. In addition, it reduces any other type of cough and ensures relief of inflammation of the bronchi, throat and nose.
Cumin favors urinary tracts functions
It is beneficial for people who have problems with the urinary tract. Improves the frequency as well as the amount of urination, therefore helps you cleanse the kidneys well, reduce fat and keep the urinary tract free of infections.
Elimination of toothaches
If you have tooth sensitivity or other toothache, cumin seeds can help relieve symptoms or even cure pain with an immediate effect. You can grind cumin seeds and incorporate the powder into the toothpaste. You can also massage the painful area with cumin seed powder for a few minutes or you can apply them directly to the gums and leave it on for up to 10 minutes.
Cumin seed powder actually provides immediate relief from swollen, inflamed or injured parts of the teeth or gums, which is why there are already many toothpastes directly with cumin in them. You can also add cumin oil to the toothpaste or create a powder with which to rinse your mouth with a little water.
You can look at Plafar or natural pharmacies for toothpaste or oral ointments with cumin seeds or even cumin powder.
Refreshes the breath
It is said that the content of limonene in cumin seeds contains qualities that refresh the breath. Chewing fresh cumin seeds is an effective and natural way to combat bad breath. Throw away the seeds once they lose their flavor.
Side effects and risks of cumin
Cumin was well tolerated in therapeutic doses and did not show toxic effects at humans. That being said, there are a few things to consider before using it:
Cumin oil is not recommended in large quantities per day (maximum 2 tablespoons / day) for people under 18, but can be used locally as an anti-colic and carminative agent for children or infants.
Women traditionally use cumin to increase the flow of breast milk, but its use is not recommended during breastfeeding. Similarly, pregnant women should be careful, as cumin has been used to sustain menstruation.
Because cumin can lower blood sugar, people with diabetes need to be careful when consuming large amounts.
It is also important to avoid cumin consumption for at least two weeks before undergoing surgery.
Natural remedies with cumin
Cumin tea - is used both for digestive problems and to improve respiratory conditions such as bronchitis, cough, colds and asthma.
Taken as such, chewed - for fresh breath and to relieve heartburn.
Cumin tincture - for cleaning wounds, bruises and preventing infections.
Cumin oil - helps eliminate toothache, bad breath and gum diseases.
Cumin powder - from ground cumin seeds a powder is obtained that can be incorporated into toothpastes or other oral ointments that can cure various dental and oral diseases.
Did you know that...?
Cumin seeds have been known since ancient times as a natural remedy for various digestive disorders: bloating, flatulence,...
Cumin seeds can be used as a quick remedy for various oral conditions such as bad breath;
It is used to add flavor to cheeses;
It is also added to pickled cabbage to give it a special flavor;
Essential oil is used to flavor sweets, ice cream, liqueurs and soft drinks;
The leaves of cumin herb plants can be harvested throughout the summer;
Pressed essential oils from seeds have been used in many cosmetics, such as soaps, lotions, creams and perfumes.
Cumin improves and increases the amount of milk. Moreover, whenever the mother uses cumin, her baby will not have problems with flatulence and indigestion and get most of the benefits of the plant. However, it is recommended to consult a doctor for the consumption of cumin during pregnancy and breastfeeding.
Conclusion
The beneficial effects of cumin have been recognized since antiquity. Use cumin seeds or cumin-based essential oils and you will discover a wide range of benefits it has on the body!
---
Summary
Beneficial effects:
Favors urinary tract functions
Soothes persistent cough
Suitable against cancer
Improves overall health
Beneficial for dry scalp
Suitable against menstrual cramps
Heals nausea and vomiting
Relieves heartburn
Suitable against itching and rashes
Able to lower cholesterol.
Side effects:
Breastfeeding and pregnancy
Medicines for diabetes glimepiride (Amaryl), glyburide (DiaBeta, Glynase PresTab, Micronase), insulin, pioglitazone (Actos), rosiglitazone (Avandia), chlorpropamide (diabetic), glipizide (Glucotrol), tolbutamide
Surgery.
Contraindications:
Medicines for diabetes
Consumed in large quantities can cause heartburn
Liver damage.
Rate this ingredient:

=